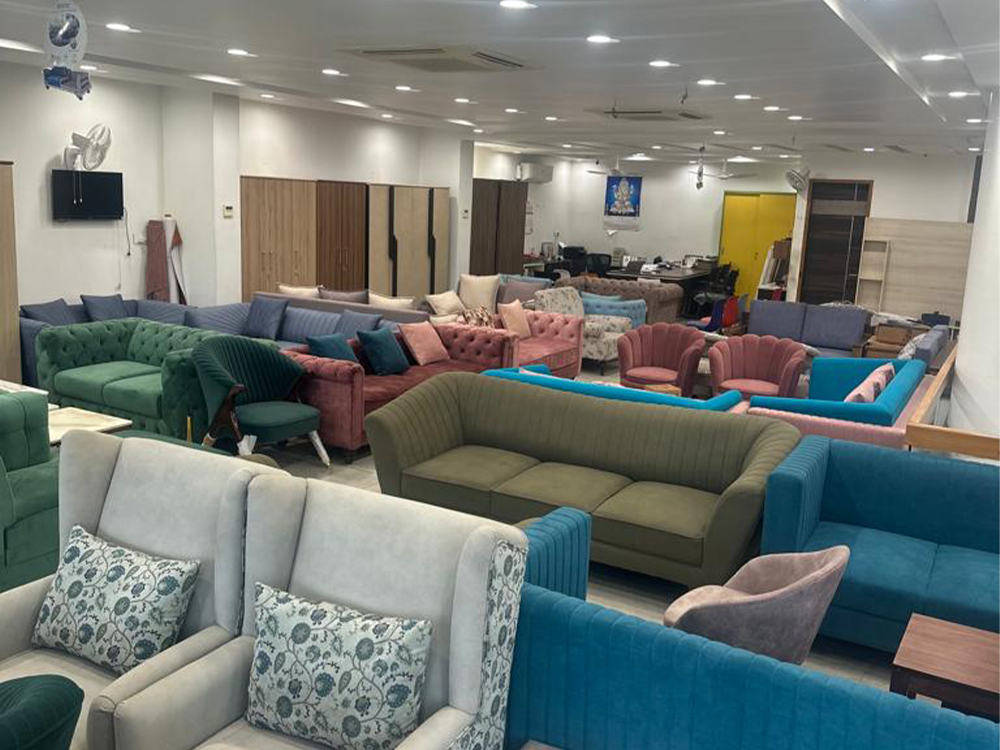 In the wake of the evolving work landscape, the importance of a functional and aesthetically pleasing home office cannot be overstated. Jaipur, a city known for its rich heritage and culture, is also home to a modern furniture revolution. Whether you're setting up a productive workspace or enhancing the comfort of your home, our online furniture store in Jaipur has everything you need to create a space that reflects your style and boosts your efficiency. Rastogi Furniture Gallery, a trusted name in the industry, offers an impressive range of online home office modular furniture that blends style, functionality, and quality craftsmanship. We are your one-stop destination for all your online furniture needs in Jaipur, including office and home furniture. The convenience of online shopping has revolutionized how we furnish our homes and offices. At Rastogi Furniture Gallery, we've embraced this trend, making it easier than ever for Jaipur residents to explore and purchase furniture from the comfort of their homes. Our online furniture store in Jaipur provides a seamless shopping experience, where you can browse, select, and order your favorite pieces with just a few clicks. For those who work from home or maintain a dedicated office space, having the right office furniture is essential. Our collection of office furniture in Jaipur is designed to cater to a wide range of needs. From ergonomic chairs that provide comfort during long hours of work to functional workstations that help you stay organized, our office furniture is tailored to enhance your productivity and work experience. A well-furnished home is a place of comfort and relaxation. At Rastogi Furniture Gallery, we offer an extensive range of home furniture in Jaipur to help you create your dream living spaces. Whether you're looking for a cozy sofa to unwind after a long day or a stylish dining table for family gatherings, our home furniture collection has something for every room in your house. Modular furniture has gained popularity for its versatility and space-saving designs. In Jaipur, we offer a wide selection of modular furniture that allows you to customize and adapt your furniture to your evolving needs. From modular workstations that fit compact spaces to modular storage solutions that keep your home organized our modular furniture in Jaipur offers flexibility without compromising on style.
Quality Meets Style:
At Rastogi Furniture Gallery, we believe that quality and style should go hand in hand. Our collection of home office furniture is a testament to this philosophy. Whether you're in need of a spacious executive desk, ergonomic chair, storage solutions, or creative workstations, we have it all. Each piece of furniture is crafted with precision and built to last, ensuring that your home office is a place of productivity and comfort.
Customization for Your Unique Space:
We understand that every home office is unique, just like the work you do within it. That's why we offer customization options for our furniture. Choose the colors, finishes, and designs that resonate with your personal style and the aesthetics of your home. Our goal is to help you create a home office that not only meets your functional needs but also reflects your individuality.
Online Shopping Convenience:
We understand the value of your time. That's why we offer the convenience of online furniture shopping. Explore our diverse range of home office furniture from the comfort of your own space. Our user-friendly platform allows you to browse, customize, and order the furniture that suits your needs.
Expertise and Customer Satisfaction:
With decades of experience in the furniture industry, Rastogi Furniture Gallery has earned the trust of countless customers in Jaipur and beyond. Our team of experts is here to guide you through the selection process, ensuring that you make informed decisions for your home office. Customer satisfaction is at the core of our mission, and we're committed to providing you with the best service and products.
Why Choose Rastogi Furniture Gallery:
Quality Assurance: Our commitment to quality is unwavering. Each piece of furniture is crafted with precision using premium materials, ensuring longevity and durability.
Customization: We believe that furniture should align with your preferences. Our customization options allow you to select colors, finishes, and designs that match your vision.
Convenience: With our online platform, you can shop for furniture at your convenience, saving you time and effort.
Expert Guidance: Our team of experts is ready to assist you in selecting the perfect furniture pieces that suit your space, style, and budget.
Rastogi Furniture Gallery: Your Trusted Furniture Partner:
At Rastogi Furniture Gallery, we take pride in being your trusted furniture partner in Jaipur. Our commitment to quality, contemporary design, and customer satisfaction sets us apart. When you shop with us online, you can expect:
Quality Assurance: Every piece of furniture we offer is crafted with precision and undergoes rigorous quality checks to ensure durability and longevity.
Variety: Our extensive collection covers all your furniture needs, from office to home, and includes a wide range of styles and designs to suit your preferences.
Explore our extensive range of office furniture and home furniture online, and experience the convenience of modern furniture shopping. Elevate your surroundings with functional and stylish furniture that reflects your personality and enhances your daily life in Jaipur.