Elegance of PVD Coated Furniture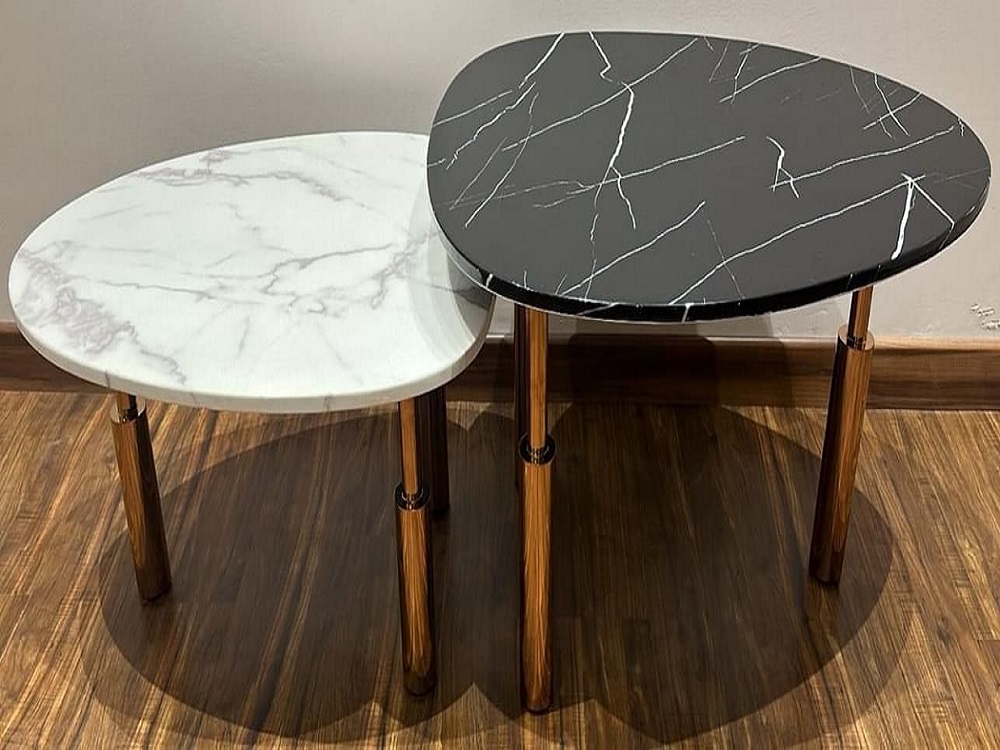 In the world of interior design and home decor, attention to detail is everything. Every piece of furniture in your space tells a story and reflects your style and personality. When it comes to creating a luxurious and sophisticated ambiance, PVD coated furniture stands out as a shining example of innovation and beauty. When it comes to furniture, finding pieces that not only provide functionality but also elevate the aesthetics of your living space is a top priority. At Rastogi Furniture Gallery, we understand the importance of combining form and function to create a harmonious environment in your home. That's why we're thrilled to introduce our exquisite collection of PVD coated furniture, featuring the stunning PVD coated Centre Table, Rose Gold Console Table, and PVD metal coated Dining Table.
Understanding PVD Coating A Modern Marvel
PVD coating is a cutting-edge technology that involves the deposition of thin layers of various metals and metal alloys onto the surface of objects. PVD coating is a state-of-the-art technology that allows a thin film of metal to be deposited onto various surfaces, including furniture. This process creates a durable, highly decorative, and corrosion-resistant finish that is not only visually stunning but also functional. The result is a finish that not only looks stunning but also offers exceptional resistance to wear, corrosion, and fading. This makes PVD-coated furniture ideal for high-traffic areas, both in residential and commercial settings. This versatility allows you to match the table to your existing decor or use it as a contrasting statement piece. Its durability ensures that it will maintain its exquisite appearance for years to come. Whether you're hosting a soirée or simply enjoying a quiet evening, this center table adds a touch of magic to your living space.
Centre Table - A Stylish Focal Point
The Centre Table is often the centerpiece of your living room. It's where you gather with friends and family, enjoy coffee, or display decorative items. A PVD-coated Centre Table can take this central spot to the next level. The sleek, reflective surface of PVD-coated metal brings an air of luxury to your living space. The rose gold finish, in particular, adds a touch of warmth and elegance that's hard to match. Its durability ensures that it will remain a stylish focal point for years to come. These center tables come in various designs, from minimalist to intricate. Regardless of the design, the PVD coating gives them a lustrous sheen. You can choose from rose gold, silver, black, or other stunning PVD finishes matching your interior decor.
The Rose Gold Console Table: A Touch of Luxury
Rose gold, a soft and warm metal finish, has been a design trend for quite some time. The Rose Gold Console Table is an embodiment of luxury and elegance. Its slender profile and gleaming rose gold PVD coating create a stunning focal point in any hallway or living room. A Rose Gold Console Table is a perfect addition to an entryway or a hallway. The rose gold PVD coating provides a touch of timeless elegance and sophistication. The reflective surface of the table is not only visually pleasing but also incredibly durable. It's an ideal piece for setting the tone as soon as someone walks through your door. This console table marries form and function effortlessly. Its reflective surface adds depth to your space, while the PVD coating ensures it maintains its exquisite finish for years to come. Whether used to display art pieces or to hold keys and decorative items, the Rose Gold Console Table is a statement of sophistication.
The Dining Table: Where Elegance Meets Functionality
The dining table is the heart of any dining room. It's a place for family gatherings, celebrations, and daily meals. A PVD metal-coated dining table is the perfect combination of elegance and functionality. The PVD coating not only enhances the aesthetics of the table but also protects it from wear and tear. Its reflective surface creates a sense of opulence, making your dining experience truly special. The PVD coating makes the dining table resistant to scratches, stains, and heat, ensuring it stands up to the rigors of daily use. Furthermore, the variety of PVD finishes allows you to choose a dining table that complements your interior style seamlessly.
Why Choose PVD Coated Furniture from Rastogi Furniture Gallery?
Unparalleled Aesthetics: Our PVD coated furniture pieces are not only functional but also serve as statement pieces, elevating the overall look of your space.
Durability: The PVD coating not only enhances the appearance but also ensures that your furniture stands the test of time.
Versatility: Whether you prefer modern, traditional, or eclectic styles, our PVD coated furniture complements a wide range of interior design choices.
Exceptional Craftsmanship: Each piece is crafted with precision, reflecting our commitment to quality and attention to detail.
Unique Selection: Our collection includes a variety of PVD coated furniture items, allowing you to find the perfect pieces to suit your home.

Rastogi Furniture Gallery is dedicated to providing our customers with top-notch furniture that combines aesthetics, durability, and functionality. Our PVD coated Centre Tables, Rose Gold Console Tables, and PVD metal coated Dining Tables are no exception. Elevate your living space with the timeless beauty of PVD coated furniture, and experience the difference that quality and design can make in your home. With their durability, visual appeal, versatility, and low maintenance, they are an investment in style and function. Explore the possibilities of PVD-coated furniture and elevate your home's interior design to a new level of sophistication and elegance. Visit our showroom or explore our website to find the perfect pieces for your space.